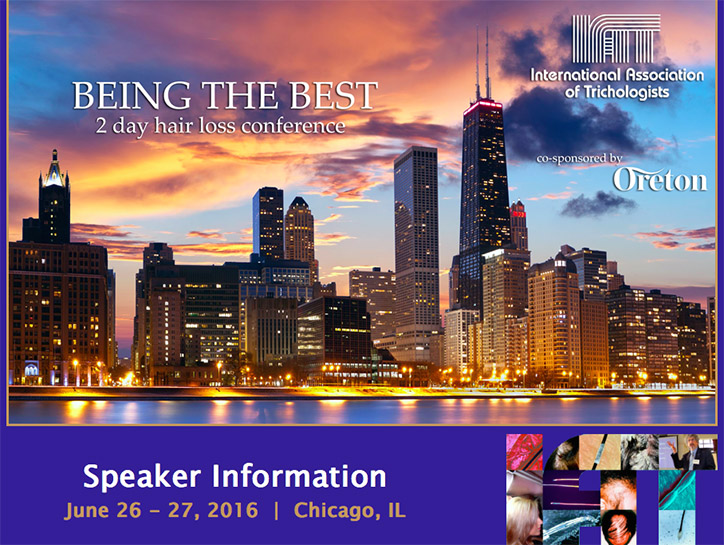 Trichology Conference Chicago
Experience the most exciting hair loss event of the year!
The 2015 Conference was a huge success where attendees traveled from all over the USA, Canada, England, Ireland, the West Indies, Puerto Rico, India, Bangladesh, Australia, Israel, Brazil, Argentina, Kenya and Mexico.
Our speakers for the 2016 conference will include keynote speakers Dr. Al-Qahtani talking about «The latest on stem cells and growth factors for hair growth», Dr. Shani Francis sharing her experiences with hair loss patients, Dr. Ademir Leite from Brazil lecturing about "The use of the psychosomatic approach in the trichological consultation», Dr. Alexandra Espinal from the Dominican Republic discussing «Diagnostic challenges of scarring alopecias», Carienne Hew from Singapore sharing her successful systems for trichology clinics, Dr. Federico Emilio Olivo from the Dominican Republic explaining «The latest on hair transplantation», Dr. Rajesh Rajput talking about " Cyclical Vitamin Therapy – Hair Regrowth without Finasteride", Dr. David Quig discussing "Elemental Analysis & Detoxification: An Overview», and David Salinger from Australia discussing the relevant blood tests for hair loss, how chemical treatments affect the hair, and the role of trichologists as expert witnesses in legal cases.
Experience the most exciting hair loss event of the year!
Other speakers at the conference include Angela McGhee discussing "launching your own brand of products", Ozzy Vera explaining how to "understand and cater to women with cancer who suffer hair loss", Miguel Cisterna from Argentina talking about "Craniofacial reflexotherapy", Maria Laura Bovcon from Argentina explaining "Interdisciplinary approach to healthy hair" and Tatiele Katzer from Brazil discussing "Cosmetic nanotechnology applied to trichology".
Guardar
Guardar
Guardar
Guardar